Fire Blade Boma – Black Mildsteel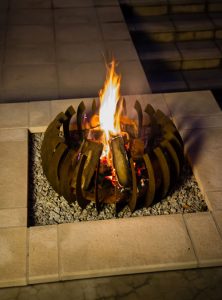 FireBlades are designed by Craig de Necker, one of South Africa's most celebrated garden landscape designers. They are the result of over a decade of experience designing fire pits and designer outdoor spaces.
FireBlades capture the essence of what we think a fire pit should be: beautiful, simple and elegant.
There are many different styles of FireBlades to suit almost any personal taste and individual style.
Please Note:
Each FireBlades fire pit is assembled by hand and while we take great care with each one, your FireBlades may have slight imperfections (which will in no way affect their functionality) making each one a one of a kind. Fire pits are inherently dangerous and as such should only be used outdoors, away from children and flammable materials. The heat generated by a fire pit can easily burn, crack, discolour or otherwise damage the surface underneath. For this reason, a suitable surface such as gravel, soil or a dedicated area which you don't mind damaging should be used on which to place your FireBlades. Mild steel models will rust over time and can mark the underlying surface. We can in no way be responsible or liable for any damage caused by placing or using our products on an unsuitable surface as the placement of the product is under the sole control of the user.
FireBlades are designed for outdoor use and are subjected to extreme temperatures as well as exposure to the elements. All finishes may discolor in areas in which the fire is in contact and the special heat-resistant paint used on the painted mild steel version will flake off around the center of the fire base plate as this area is in direct contact with the hottest part of the fire, subjecting the plate to temperatures beyond that which paint can endure. However, the outer edges of the fire base plate and the blades around the fire pit should remain well within the limits of the paint.
Mild steel will rust over time, resulting in a beautiful patina developing the more it is used.
Also available in Corten Steel or Stainless Steel