Extractor Hood (Rear or Top Exit)- H-1000T/R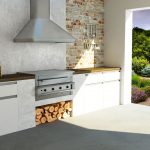 Our Stainless Steel Extractor Systems are designed to extract the smoke generated by our Gas Braais.
We manufacture various lengths of ducting and elbows, making it possible for us to supply a system for almost any application.
The H-1000 extractor hood comes complete with a grease filter, drip tray and light fitting. Please contact our sales office to help you determine which components will be necessary for your application.
The H-1000 pairs well with our K250 Extractor Motor for any installation up to 3m.
Dimensions: 1000 x 630 x 450
*H-1000 Extractor Hood does not include Ducting, Mock-Flue, Extractor Motor, Damper or Weather-Dome.