Dovre Brut 200 Black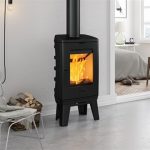 The cast iron stove Brut 200 by Dovre heats with 6.5 kW rooms up to 130 m³ . The high viewing window with integrated window flushing offers a beautiful view of the flickering fire. The combustion air can be precisely set using the separately adjustable primary and secondary air supply. The targeted tertiary air supply also ensures particularly low-emission combustion. The stove is in type 1, so it has a self-closing combustion chamber door. The removable ash drawer ensures convenient disposal of the burning residues.
Tip: Are you looking for an even more compact oven? Then discover the Brut 100 model from Dovre now !