4 Burner Entertainer Gas Braai (Natural Draught)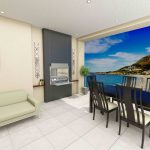 The Chad-O-Chef Natural Draught Entertainer is the ideal braai for an open air entertainment area. An elegant stainless steel housing provides the perfect setting for your Chad-O-Chef gas grill. Accompanied by our 4 Burner Sizzler, the Entertainer gives you ample room to braai two large steaks per burner(or 4 small chops), and even more cooking options by adding our industrial strength Rotisserie option.
While you're cooking, the Entertainer's bottom door doubles as a convenient work surface, as you sizzle up a storm.