Palazzetti Efesto
BLACK FRIDAY PRICE ONLY VALID FOR 29/11/2019
PRE ORDERS WELCOME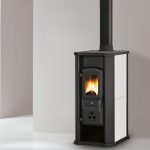 The Efesto features a contemporary design, with rounded corners and a curved door. It has a decorative top plate and top front panel, with ceramic sides.
The Efesto features a cast iron door and cylinder head. The ash drawer is removable for an easy clean. There is an adjustable air regulating valve for combustion control and the cast iron combustion chamber is lined with Vermiculite firebrick.
This fireplace consumes approximately 1.2 kg of wood per hour and the combustion chamber comfortably loads 20cm logs. This charming model is available with red or white ceramic side panels, and is ideal for heating a small room or office.
Imported from Italy and comes with a 2 year limited guarantee.