Medium Pizza Oven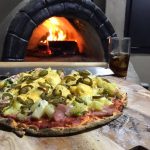 Price includes FREE with each oven purchased:
pizza paddle
Firebricks for oven floor
Chimney 150 mmx 1meter
Chimney hat
Colour of choosing
The average height of the stand should be around 1.1m for max comfort/easy usage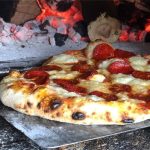 Colours Available :
Light grey or black/terracotta mouth
Charcoal/ black mouth
Sandstone/terracotta mouth
Terracotta/black mouth
Bone white/grey mouth
We offer installation at an additional cost granted the stand/slab has been built or stand building quoted separately. Deliveries also available
The Pizza Oven are manufactured using layers of refractory materials as well as utilizing a thermal blanket inside for maximum efficiency and heat retention. The oven has a final plaster finish with a weather proof paint. The oven can be painted/repainted any colour and can even be mosaic finished by the client to give it a unique look.